L'Oréal-UNESCO International Award
For Women in Science empowers brilliant women scientists by rewarding and promoting their outstanding research and raising their profile at a global level.
Rewarding outstanding women scientists
The For Women in Science International program functions at multiple levels in order to reach women at all stages of their scientific careers and support them in overcoming the obstacles that too often prevent women from becoming senior researchers. This starts with our International For Women in Science program, which honours five brilliant female scientists each year for their remarkable contribution to advancing research, promoting their work globally and empowering them to act as role models for aspiring women scientists and future generations. 
127 international Laureates since 1998.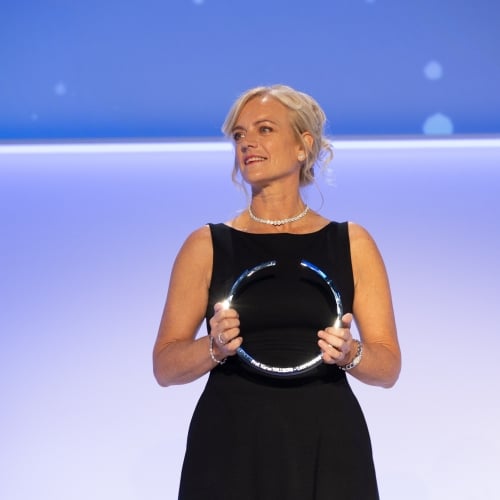 An international, highly respected scientific jury selects our five laureates from hundreds of nominees, recognising their distinguished achievements on a global scale. We reward researchers in Life and Environmental Sciences, and Physical Science, Mathematics and Computer Science in alternate years. To support women-led scientific excellence in addressing societal needs worldwide, we select one Laureate from each of the five major continents: Africa and the Arab States, Asia and the Pacific, Europe, Latin America and the Caribbean, and North America. Each Laureate receives €100,000 to further her research, together with media training and extensive media opportunities to raise her profile within the international scientific community and the general public.
Five of our 127 international Laureates have received Nobel Prizes for Science: Christiane Nüsslein-Volhard (1995 Nobel Prize in Physiology or Medicine), Ada Yonath (2009 Nobel Prize in Chemistry), Elizabeth H. Blackburn (1995 Nobel Prize in Physiology or Medicine) and Emmanuelle Charpentier and Jennifer A. Doudna (2020 Nobel Prize in Chemistry).
Laureates 2023
Laureate for Africa and the Arab States

Professor Suzana Nunes

Professor of Chemistry.

Professor of Chemical and Environmental Science and Engineering, Vice Provost for Faculty and Academic Affairs, King Abdullah University of Science and Technology (KAUST), Saudi Arabia.


Prof. Suzana Nunes is awarded for her outstanding work in developing innovative membrane filters to achieve highly efficient chemical separations with a lower carbon footprint. Her research has proven to be particularly beneficial to the water, petrochemical and pharmaceutical industries in achieving a more sustainable environment. 
 

Laureate for Europe

Professor Frances Kirwan

Professor of Geometry, University of Oxford. Mathematics.

Prof. Frances Kirwan is rewarded for her exceptional work in pure mathematics combining geometry and algebra in order to develop techniques to understand the classification of geometric objects. These techniques have been used by theoretical physicists searching for mathematical descriptions of our universe. Her recent work has the potential to help scientists to extract crucial information from large complex data sets. 

Laureate for Asia and the Pacific

Professor Lidia Morawska

Professor of Earth and Environmental Science. 

Distinguished Professor, School of Earth Sciences and Climate, Queensland University of Technology, Australia and Director of the International Laboratory for air quality and health.

Prof. Lidia Morawska is distinguished for her excellent research in the field of air pollution and its impact on human health and the environment, with a specific focus on atmospheric particulate matter. Her extraordinary dedication and impact have built a bridge from fundamental science to real-world policy and practice to provide clean air for all. 
 

Laureate for North America

Professor Aviv Regev

Professor of Bioinformatics.
         
Executive Vice President and Global Head of Genentech Research and Early Development, Genentech/Roche, San Francisco. 


Prof. Aviv Regev is awarded for her pioneering work applying mathematics and computer science to revolutionize cell biology. Her research enables scientists to discover and characterize the trillions of cells within the body and enhances our ability to decipher and target the mechanisms that cause disease, in order to develop better diagnostics and therapies. 
 

Laureate for Latin America and the Caribbean

Professor Anamaría Font

Professor of Physics, Central University of Venezuela. 


Prof. Anamaría Font is recognized for her work in theoretical particle physics, with a particular focus on developing the theory of superstrings. This describes, in a unified and consistent way, the elementary particles of nature. Her research has enabled further understanding of the theory's consequences for the structure of matter and quantum gravity, which are also relevant to the description of black holes and the first moments after the big bang. 
 

 

DISCOVER PREVIOUS LAUREATES
The jury
Each year, an international highly respected scientific jury selects the five Laureates of the L'Oréal-UNESCO For Women in Science International Award from hundreds of nominees, recognizing their distinguished achievements on a global scale.
DISCOVER THE JURY