L'Oréal-UNESCO International Award
For Women in Science empowers brilliant women scientists by rewarding and promoting their outstanding research and raising their profile at a global level.
Rewarding outstanding women scientists
The For Women in Science International program functions at multiple levels in order to reach women at all stages of their scientific careers and support them in overcoming the obstacles that too often prevent women from becoming senior researchers. This starts with our International For Women in Science program, which honours five brilliant female scientists each year for their remarkable contribution to advancing research, promoting their work globally and empowering them to act as role models for aspiring women scientists and future generations. 
122 international Laureates since 1998.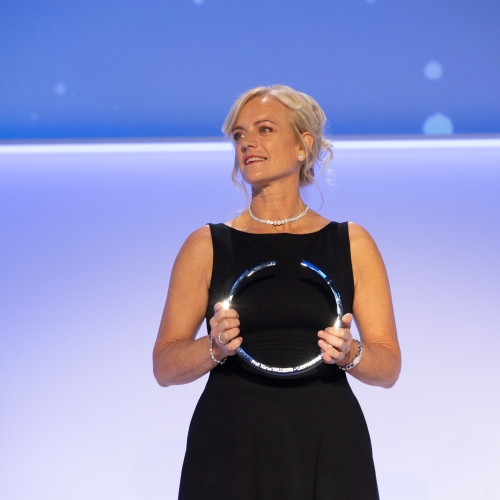 An international, highly respected scientific jury selects our five laureates from hundreds of nominees, recognising their distinguished achievements on a global scale. We reward researchers in Life and Environmental Sciences, and Physical Science, Mathematics and Computer Science in alternate years. To support women-led scientific excellence in addressing societal needs worldwide, we select one Laureate from each of the five major continents: Africa and the Arab States, Asia and the Pacific, Europe, Latin America and the Caribbean, and North America. Each Laureate receives €100,000 to further her research, together with media training and extensive media opportunities to raise her profile within the international scientific community and the general public.
Five of our 122 international Laureates have received Nobel Prizes for Science: Christiane Nüsslein-Volhard (1995 Nobel Prize in Physiology or Medicine), Ada Yonath (2009 Nobel Prize in Chemistry), Elizabeth H. Blackburn (1995 Nobel Prize in Physiology or Medicine) and Emmanuelle Charpentier and Jennifer A. Doudna (2020 Nobel Prize in Chemistry).
Laureates 2022
Laureate for Africa and the Arab States

Professor Agnès Binagwaho

Professor of Pediatrics and Vice-Chancellor of the University of Global Health Equity, Kigali, Rwanda.  

Awarded for her central role in expanding access to public healthcare for the most vulnerable communities in Rwanda, Africa and beyond, helping reduce the global burden of disease and improving lives.

In particular, she focuses on best practices in building resilient health systems and improving the quality, availability, and affordability of healthcare services for people suffering with diseases including HIV, malaria, and tuberculosis. This has never been more important than now as overwhelmed healthcare systems across the world struggle to build back stronger in the wake of the Covid-19 pandemic.  

Laureate for Europe

Professor Ángela Nieto

Professor at the Institute of Neuroscience (CSIC-UMH), San Juan de Alicante, Spain. 

Awarded for her fundamental discoveries in embryonic development, which have paved the way for understanding how cancer extends to other organs and forms metastases, the secondary tumours that cause more than 90% of cancer-related deaths.

In particular, she explores how cells change identity in the embryo to disseminate and form different tissues. This in turn stands to illuminate how cancer spreads and inform better therapeutic strategies. 

Laureate for Asia and the Pacific

Professor Hailan Hu

Professor and Executive Director of the Neuroscience Centre of Zhejiang University School of Medicine, China.   

Awarded for her major discoveries in social and emotional neuroscience. Her ground-breaking work has revolutionized scientific understanding of mental health and, deciphered the mechanism of depression to inform innovative treatment strategies and new medicines. These breakthroughs are vital in the wake of the mental health crisis sparked by the Covid-19 pandemic, with nearly 30% of the global population suffering from depression according to Lancet.

She is passionate about raising awareness and illuminating pathways to high impact solutions, particularly given that in many parts of the world, the illness remains largely under diagnosed and still taboo. 

Laureate for North America

Professor Katalin Karikó

Adjunct Professor at the Perelman School of Medicine, University of Pennsylvania, and Senior Vice President at BioNTech RNA Pharmaceuticals. 

Awarded for her ground-breaking development of a non-inflammatory mRNA, as a potent vaccine to prevent viral and parasitic infections. Her research has contributed to the development of the COVID-19 vaccines by Pfizer-BioNTech and Moderna. 

She has been conducting years of research which led to a solution for one of the basic problems of RNA, namely the low and short-lived protein production. Professor Karikó discovered that nucleoside-modified mRNA – compared to unmodified and non-optimized mRNA – had a better tolerability and could be administered at higher doses.  

Her research has paved the way for future therapies in complex diseases such as cancer, heart failure, stroke, anaemia, and autoimmune diseases.  

Laureate for Latin America and the Caribbean

Professor Maria Guadalupe Guzmán

Director of the Center for Research, Diagnostic and Reference activity of the Institute of Tropical Medicine, Pedro Kouri (IPK), Havana, Cuba. 

Awarded for her pioneering work to address the devastating human infections caused by the dengue virus, one of the world's most serious diseases in terms of morbidity and mortality, causing 390 million dengue virus infections annually¹.

Her research has led to a better understanding of its pathogenesis and risk factors, the origin of several epidemics of dengue haemorrhagic fever, the development of diagnosis and monitoring, and the search for potential new vaccines. It will also strengthen training for medical students and personnel, helping to ensure the next generations are better equipped to fight these viruses. 

DISCOVER PREVIOUS LAUREATES
The jury
Each year, an international highly respected scientific jury selects the five Laureates of the L'Oréal-UNESCO For Women in Science International Award from hundreds of nominees, recognizing their distinguished achievements on a global scale.
DISCOVER THE JURY